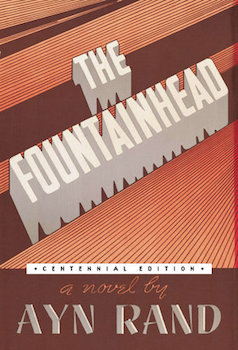 "It all starts with Ayn Rand." – That is the famous saying about how young, innocent minds, basking in the openness of their future, find themselves tempted into the promise of intellectual thought.
Ayn Rand is commonly said to become their first champion. Not only is this great author the champion of creative and intellectual thought but The Fountainhead is the 1943 novel that is likely to be the best of her works to begin with. Let's face it, Atlas Shrugged is just too big to swallow when you are starting out in the world of reading and her other books are somewhat strange and less direct to her underlying philosophy known as 'Objectivism'.
The Fountainhead was Ayn Rand's first major literary success and created enough stir in the highest literary circles to justify another ten years work on her masterpiece Atlas Shrugged. Call it a masterpiece if you must, but this humble critic's opinion is that The Fountainhead was better.
The story of The Fountainhead begins with Howard Roark, a young architect who would rather struggle in obscurity than compromise his integrity and vision in life. He is the epitome of a young individual's hero. He refuses to pander to the prevailing status quo and takes an amazing stand against the establishment of his time.
He is expelled from the Stanton Institute of Technology and goes to New York City to work for Henry Cameron, a disgraced architect whom Roark admires. He even closes his office rather than compromising his ideals and eventually takes a job at a Connecticut granite quarry where he encounters a beautiful, idealistic daughter of the quarry owner. Dominique, the heroine, frequently visits the quarry to tempt Roark and eventually, the explosives ignite.
Howard Roark is Rand's image of the perfect man who lives for himself and for his own creativity, indifferent to the opinions of others. Dominique is the perfect mistress.
Although The Fountainhead wasn't widely accepted at first, it gained a following amongst individuals by sheer word of mouth. It eventually sold hundreds of thousands of copies and was crafted into a Hollywood film with Gary Cooper.
This book is highly recommended with those who are starting out on the long journey of individualism and a life of intellectual creativity. It is a must read!
The fountainhead by Ayn Rand