Have you ever heard of Homunga Bay? I hadn't either, but was told we were walking the coastal track from there to Waihi Beach.
Sounded OK, so on the first fine day we met in the carpark at the northern end of Waihi Beach, where we left one car, and drove back up Trig Road, to the end of Ngatitangata Road (unsealed). There is a DOC sign signalling the start of the track, which is a steep descent down through farmland to Homunga Bay. This part of the track crosses private land by courtesy of the owners, so if you do this walk, please stick to the track.
Homunga Bay is a beautiful secluded beach and on this September Sunday, we had it entirely to ourselves. As we had only been walking 30 minutes, it was too early for a rest stop, so we continued along the track, skirting headlands and passing through some small stream gullies containing puriri and nikau palms until we came to an amazing slab of rock surrounded by beds of tussock blowing in the wind, with a creek cutting a channel through the rock. The coastal scenery had been great, but this was impressive – as was the bridge over the stream, built using a large rock as the central support. We decided to stop for lunch at this point, where the hot chocolates and lattes produced by our tour leader were almost as impressive as the scenery.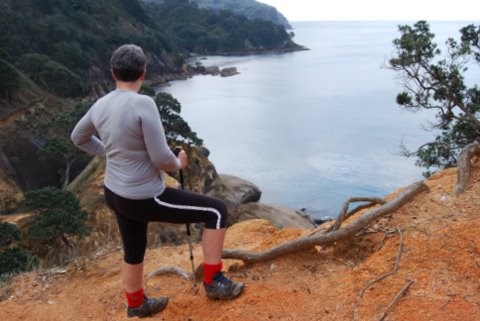 Fuelled by the food and caffeine we walked on to Orokawa Bay. Orokawa Scenic Reserve comprises 145 hectares of native bush, with remnants of mature coastal forest, and some abandoned gold mines. Waihi Beach to Orokawa Bay must be a popular walk as there were lots of people around and three toilet blocks at intervals along the beach, under the pohutukawa trees. Apparently, the beach isn't safe for swimming – because of the rips and the steep grade of the sea floor – but we would never think of swimming in the sea in September, so walk on to the turn-off to William Wright Falls. We decide to leave that side-trip (about 1 hour) for another day, and continue along a very muddy track (due to the wettest September for many years), to the northern end of Waihi Beach, a delicious double scoop ice cream, and the other car.
The walk is of moderate difficulty and takes about 3 hours. If you cannot organise a car at both ends of the track, you can walk from Waihi Beach to Homunga Bay and back in 5 hours. But be warned, DOC advises that the start of the track at Waihi Beach may not be accessible at times of very high tides, and strong swells. Also take insect repellent, because the sandflies are very pleased to see you. Otherwise, recommend this walk for a great day out!
Location – Waihi
Departure point – Northern end of Waihi Beach, or Ngatitangita Road
Duration – 3 hours
Kid/families – Not suitable for young children (under 12 years)