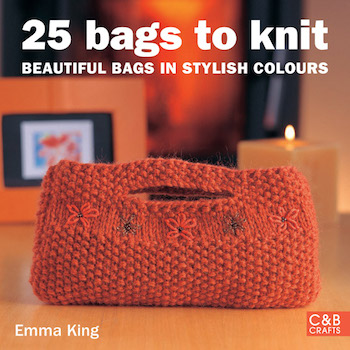 I've always loved making my own bags, and I'm one of those women who think one can't have too many bags.
Some of my handmade bags have been rather hasty projects for (almost) instant satisfaction, some took some more time to make and turned out to become much-used favourites. I make them mostly from natural fibres, so they're washable.
There's nothing worse than having to give up your beloved bag because it is taking on a grimy tinge. That aside, by making your own bag you can show off your individuality and creativity without having to slave for weeks on end.
Knitted bags can be as stylish, funky or elegant as you like – it all depends on what yarns and embellishments you have in mind and how technical you want the knitting to be. 25 Bags to Knit has bags for all levels – beginners to advanced knitters.
I don't like all of the designs, but its good that the book caters for a range of tastes. None of the bags are too elaborate, but are made to look more complicated than they are with a colourful array of yarns, patterns and embellishments.
One that I really like is the simple orange clutch from the paperback cover with its simple moss stitch pattern and cute embroidered daisies. I want to knit it without handles, line it with cotton and put a zip in to make a small pencil case.
Techniques used in the book include a lot of simple knit/purl patterns, some intarsia and Fair Isle and even knitting with beads and sequins and some simple embroidery.
The bags range from plain shoulder bags to funky bags with a beachy feel, from children's backpacks to evening glamour. Most are variations of a simple flat pouch with handles, and almost all of the bags would make great stash busters or show off small amounts of your handspun.
Measurements, be it gauge, yarn weights or needles, are imperial as well as decimal.
There is also a handy conversion chart at the back of the book. Abbreviations can be found in a table, but also (and I love this fact), beside each of the instructions, so knitters have all the abbreviations for a project right where they need them.
I would have liked some innovative solutions for bag closures. Sometimes it's okay to use a bag that can't be closed at all, but I usually like to be able to snap the opening together or just zip it.
But that's a small niggle, and I'm sure experienced crafters will find a way.
Overall, I think '25 bags to knit' is a beautiful book that has a variety of projects for knitters of all skill levels.
25 bags to knit: Beautiful bags in stylish colours: Emma King